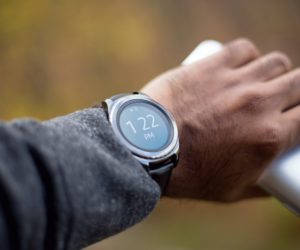 The SmartWatch: function or style?
Since the launch of these new, 'smart' devices, there has been an ongoing battle of 'whodunnit best'.  In September 2013 Samsung launched its first smartwatch and, in the span of a year, they launched five more products.  Together these six products make up the Gear series.
There are five 'standard' smartwatches in different colors that enable users to access and sync their mobile devices.  There is also the GearFit which not only allows users to sync their mobiles, but also track steps, monitor heart rate, and have real-time coaching.  All through a watch!
The last few weeks have seen a rise of information about Apple's iWatch.  You can sync your iCloud to a small wrist-worn device.  From phone calls and text messages, to emails and calendar notifications, everything can now be found wrapped securely around your wrist.
What is interesting about the Apple iWatch and the Samsung Gear collection is that they really cater to the Apple vs Android market.  But what about the people who are somewhere in between? People who love their iMacs but prefer the Android operating system, or someone who can't live without their PC and their iPhone?
While we are all focusing on these mega-media-moguls to see what their products bring to the table, we might be missing an important player in the SmartWatch Game. Wareable.com recently made a post mentioning a number of other devices that may have gone unnoticed.  This list consists of things such as best for style and best for sport.  Moreover, their 'best of' list brings up something you wouldn't expect from new technology – style.
Yes, of course, the slick lines and corners of every new Apple or Android device has its own push in terms of technological style.  But when you think about style, it also brings fashion to mind.  It is interesting to see how some brands have thought of this and put it into effect: mixing the some classic watch styles with the incredible technology of the SmartWatch.
Among others, GUESS will be launching a 'classic', Apple and Android compatible SmartWatch later this year.  They debuted their Connect watch at this year's Consumer Electronics Show (CES).  Teaming up with Martian Watches, GUESS has created a product that brings together style and function.  The Martian technology allows a number of incredible functions, including Bluetooth enabled functions such as making and receiving phone calls and voice-to-text.
With an analog quartz battery with up to 2 years life and an attractive price, the GUESS Connect is expected to be available in Fall.
---