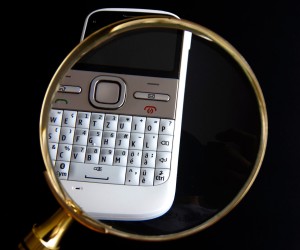 A Short History of Mobile – part 2
We left off last time with RIM's first Blackberry device, the Blackberry 850, and the start of a culture of QWERTY keyboard equipped devices.  So what came next?
Shortly after the release of the first Blackberry device the term 'Smartphone' started to linger in the mobile airwaves, starting with Ericsson's first Smartphone, the R380s in 2000.  This new Ericsson phone, teamed up with Symbian technology, was the true forefather of what we see as the Smartphone today.
Ericsson's report releasing the device defines the term 'Smartphone': "The term Smartphone has been coined to describe devices which, while being primarily a mobile phone, incorporate elements of functions found in paper-based personal organizer systems or in modern electronic personal digital assistants (PDA)".
The Ericsson R380s took the face of the mobile phone to a new level – with a standard telephone keypad on the outside, which could be flipped out to expose an inner touchscreen.  This was reminiscent of the IBM Simon, but fared better on the market.  The touch screen enabled a number of features including text messaging, email, and limited web browsing – much like the features we come to take for granted today on our modern Smartphone
What most people would regard as the first step towards the modern Smartphone is the release of the 2003 RIM Blackberry 7200 series.  This device had the beginnings of the signature look and feel of future Blackberry devices.  Aside from its role as telephone, the main purpose of the new Blackberry was to enable mobile emailing.
In their 2004 Annual Report, Blackberry confirmed an incredible user growth from approx. 534,000 users in 2003 to over a million in 2004.  Blackberry positioned itself as a leader in wireless communication, especially in a world where business people are constantly on the go.  With a reach of 50 networks in 30 countries, RIM's technology allowed its users to have wireless freedom around the world.
Since then, RIM has soared to what many believe to be its peak and plunged into near-bankruptcy.  Still, to this day we see the Blackberry brand being revitalized to trying to keep itself afloat – in a world where the QWERTY keyboard has gone from external hardware to on-screen, touch only, and most people don't hear anything other than Apple and Android.
Have we got you hooked? Come back and check out our next post where we delve into the iPhone and Android devices.