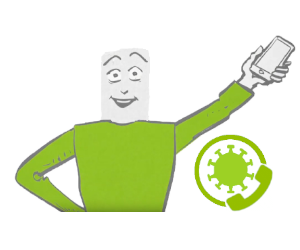 Get started with a corona virus hotline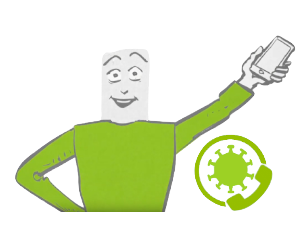 It's now just over a year that we've been living through the coronavirus pandemic; the largest health crisis to have affected the world, well, ever. The exponential speed at which this virus continues to grow and affect us in every corner of the world is unprecedented, and now more than ever, there is a need to have quick, efficient, and reliable lines for crisis communication. The speed of this has created a demand for a corona virus hotline in every country and within every organization.
In this article, TeleForwarding highlights the use and importance of a corona virus hotline for testing providers, testing locations, and clinical research, as well as custom corona virus hotline and messaging solutions exclusive to TeleForwarding. Take advantage of our expertise and experience within the clinical research and healthcare sector to help you streamline your crisis communications.
Corona virus hotline for testing providers and locations
Testing providers: We have clients with large influxes of coron avirus related inbound calls who have implemented a 0800 number to scale-up their services nationally. This type of number can be an asset to your company, too. Having a corona virus hotline that is designated for questions and orders for your specialized testing kits and related products and/or services that are in high demand during this crisis, having a specific corona virus hotline allows you to cater to the large influx of calls without disrupting your telephone traffic on a regular business day. Alternatively, with the global scaling of your testing locations, you can set up a unique corona virus hotline for each country where you offer sales, service and support for your products. When it comes to questions, you can save even more time by creating custom voice recorded answers to the most frequently asked questions about pricing and distribution, among other things.
Testing locations: From scheduling and/or changing appointments, to discussing results and next steps, a corona virus hotline is a huge and perhaps necessary asset for your testing location. Having a local virtual number for testing locations in different cities not only emphasises your proximity to clients, but also helps to scale your inbound and outbound coronavirus related calls. Alternatively, you can set up a single coronavirus hotline that gets redirected to the location of your caller's choice, having one central number that you can advertise in all of your crisis communications, from marketing materials to e-mail signatures. Alternatively, you can set up a corona virus hotline for each independent testing location so as to keep things simple for local callers and call agents responsible for handling call traffic in-house.
Corona virus hotline for clinical research
As it's important to track participants experiences, potential side effects, needs, and results in wide-scale clinical research of various treatments for acute and 'long covid', having a coronavirus hotline is an imperative tool for your research team. You can use a corona virus hotline for various steps and uses in your research: sign up and intake interviews, new/increased/decreased symptom reporting, follow-up appointments and surveys, and the list goes on. Due to the unpredictable nature of clinical research, the implementation of a flexible and reliable corona hotline is no doubt the simplest step to scaling your research across state, province, or country borders.
Custom corona hotline solutions
Are you looking for customised solutions for your corona hotline and crisis communications needs? TeleForwarding understands the need and is experienced with the set-up and maintenance of services for global service-windows enabling your organisation to be available 24/7 to offer your communities, customers, and employees with accurate and easy to access information. We can help you provide telephonic solutions for enquiries about business hours, visiting hours, appointment scheduling, as well as helping you offer them answers to the questions that might be keeping them up all night in relation to the current global health crisis. With the probability of your callers asking the same questions, we can offer custom solutions allowing you to create voice recordings to answer your most frequently asked questions at the press of a button using our voice response platform. Not to mention the fact that we have thorough and broad experience working with our clinical research and healthcare sector clients to create voice response from the callers' side, giving them the autonomy to leave a message at their leisure rather dealing with long hold times. These are just examples of the types of customisable solutions we have offered clients when it comes to crisis communication, but our sales support team is always happy to think with you to create solutions that fit your specific needs.
Why TeleForwarding?
As you have read in this article, this question has actually already been answered. Specialized knowledge and skills for quick delivery of flexible, reliable, high quality connection to all countries on all continents; these are the core values upon which we pride ourselves at  TeleForwarding, especially in this extended period of the covid-19 pandemic. Our team of specialists with a combined multiple decades years of experience in the field of telecommunications understand the urgency for reliable, low cost solutions. It is our pleasure to contribute our international telecom services and to be a pillar of support for those who are directly involved in the fight against covid-19.